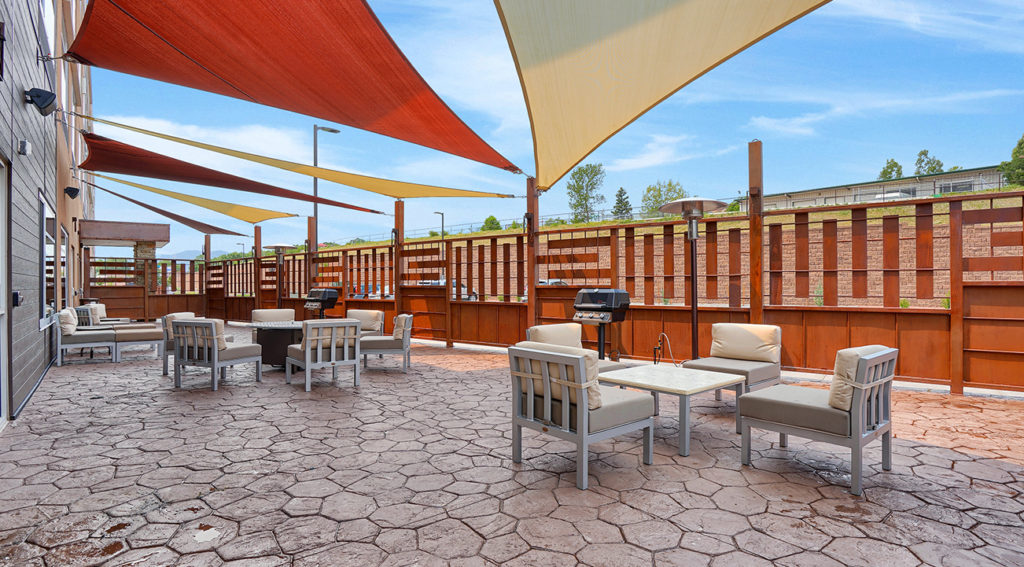 Imagine swimming a few laps in a brand-new, perfectly heated indoor pool before making your way to an expansive outdoor patio and BBQ grill.
That's the reality for guests at this Colorado Springs hotel where the lines get a little blurred between the great outdoors and the incredible indoors. Two fire towers ensure a cozy evening as you sample a flight of local beer brewed right in Colorado. There are two gas grills available for guests to use, because nothing goes better with a chilled IPA on tap than a great barbeque feast.
Spend the evenings cuddled up next to the fire pit in the luxurious lounge area. The ambiance is pure Colorado. Customized rusted metal features complement the decadence of this new hotel built in May 2018. Up to 40 people can comfortably sip, lounge, and relax in this idyllic space where you have an on-site bar just steps away. Known for happy hours and drink specials, it's quickly becoming one of the best places to relax in town, and guests have unprecedented access—along with a pool view.
With ten different styles of guest rooms and plenty of meeting space available, the Best Western Executive Residency Fillmore Inn has already become a favorite for leisure and business travelers alike. No matter what brings guests to Colorado Springs, being walking distance to a gorgeous bar should be a priority. It's where you can unwind after a long day, perhaps preceded by a dip in the temperate pool. The local staff are happy to help with recommendations on what to see and where to go in Colorado Springs. When you're staying so close to the top attractions, it can be tough to determine what to do first.
As you sample the beers on tap or order the perfect plate of appetizers, count yourself lucky that you're one of the first to experience this new Colorado Springs hotel. All of the comforts of home meet all of the luxuries you deserve. Guests can make their way between the pool and the bar for the ultimate weekend of lounging with ease.
Ready to go bottoms up? Here are a few reasons guests love our patio:
Ample, comfortable patio furniture can seat up to 40
It's within walking distance of the heated pool
There are a variety of local beers at the on-site bar
Fire pits, fire towers, and BBQ grills for guests make it a great evening option
Why go out when you can stay in—especially when "staying in" takes you to a stunning outdoor patio?